Dongfeng Tianlong 8X4 aluminum alloy fuel tank truck
Features:
Tank trucks, also known as mobile fuel trucks, fuel trucks, fuel trucks, oil trucks, and petroleum trucks, are mainly used for the transportation of petroleum derivatives (gasoline, diesel, crude oil, lubricating oil, coal tar and other oil products) And storage.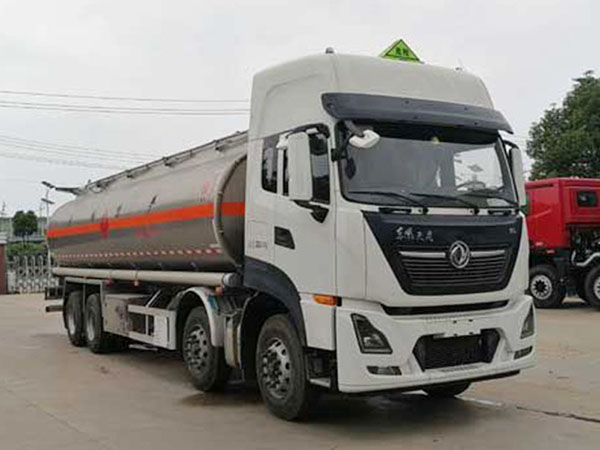 Detailed vehicle parameters
Main technical data of Dongfeng Tianlong 8X4 aluminum alloy fuel tank truck
product name
Dongfeng Tianlong 8X4 aluminum alloy fuel tank truck
Dimensions (mm)
11900×2530×3500,3880
Vehicle model
CSC5320GYYLD6
Tank size (mm)
9200×2400×1650
Front passenger
3
Environmental protection / exemption
Yes
Total mass (kg)
32000
Approach/departure angle (°)
21/13
Rated mass (kg)
19870,19805
Front suspension/rear suspension (mm)
1130/1920
Curb weight (kg)
12000
Maximum speed (km/h)
80
Emission Standards
GB3847-2005, GB17691-2018 Euro Ⅵ
Vehicle description
1. The vehicle is suitable for the transportation of dangerous goods. The type of the vehicle for transporting dangerous goods is: FL type, item number: 3. The effective volume of the tank is 29.7 cubic meters meters, the transportation medium: gasoline, and the density: 700 kg/ cubic meters meter. Tank dimensions (length×width×height) (mm): 9200×2400×1650. 2. The side/rear protection materials are all aluminum alloy and bolted; the rear protection section size is 120×60mm, and the bottom edge is 500mm above the ground. . The second axis can be equipped with a plastic fender or a cubic meters fender. The upper part of the tank can be equipped with an aisle and a rear license plate light. 3. Optional flat-top cab with the chassis; optional cab front cover; high-roof cab top air horn is optional; cab front corner spoiler is optional. Only use chassis with front exhaust pipe, speed limit device (speed limit 80km/h), front wheel disc brake and radial tires.
Dongfeng Tianlong 8X4 aluminum alloy fuel tank truck chassis parameters
Chassis model
DFH1320D2
Fuel type
diesel fuel
Number of axes
4
Front track (mm)
2030/2030
Wheelbase (mm)
1995+4500+1350
Rear track (mm)
1860/1860,1880/1880
Number of tires
12
Tire specifications
295/80R22.5 18PR
Dongfeng Tianlong 8X4 aluminum alloy fuel tank truck engine parameters
engine model
Engine manufacturer
Displacement (ml)
Power (kw)
DDi75E350-60
Dongfeng Commercial Vehicle Co., Ltd.
7500
257
Dongfeng kl 8X4 aluminum alloy fuel tank truck
Dongfeng Tianlong 8X4 aluminum alloy fuel tank truck
Welcome to Chengli Special Automobile Co.,Ltd, any questions contact us via: sales@chengli.co