Dongfeng Tianlong 6x4 oil truck
Features:
Dongfeng Tianlonghou eight-wheeled oil tanker Chassis model: DFH1250A Emission standard: GB17691-2005 Euro Five GB3847-2005
Detailed vehicle parameters
Main technical data of Dongfeng Tianlonghou eight-wheeled oil tanker products
product name
Dongfeng Tianlonghou eight-wheeled oil truck
Dimensions (mm)
9450×2500×3800,3300
Chassis model
DFH1250A
Cargo compartment size (mm)
××
Front passenger
Rated passenger (person)
Total mass (kg)
25000
Approach/departure angle (°)
20/12
Rated mass (kg)
12205,12270
Front suspension/rear suspension (mm)
1500/2200
Curb weight (kg)
12600
Maximum speed (km/h)
80
Emission Standards
GB17691-2005 Euro Five, GB3847-2005
Vehicle description
The vehicle is suitable for the transportation of dangerous goods. The transportation medium is diesel, kerosene, and gasoline. The density is 830,800,700 kg/ cubic meters meter respectively; the category number: 3; the effective volume of the tank: 15.4 cubic meters meters. The overall dimensions of the tank (long × long axis × short axis) (mm): 6800 × 2150 × 1550. Protective material: Q235A carbon steel, connection method: the left and right sides and rear protection are welded, the rear protection section rule (mm): 110×50, the rear protection ground clearance (mm): 510. It only uses chassis radial tires and a chassis with ABS. The front wheels of the car are equipped with disc brakes, front exhaust pipes, and a speed limit device with a speed limit of 80km/h. Install a driving recorder with satellite positioning function. ABS manufacturer: East Koknor Commercial Vehicle Brake System (Shiyan) Co., Ltd., ABS model: 3631010-C2000.
Chassis parameters of Dongfeng Tianlonghou eight-wheeled oil tanker
Chassis model
DFH1250A
Fuel type
diesel fuel
Number of axes
3
Front track (mm)
2040
Wheelbase (mm)
4350+1350
Rear track (mm)
1860/1860
Number of tires
10
Tire specifications
295/80R22.5 16PR,12R22.5 16PR,315/80R22.5 16PR
Engine parameters of Dongfeng Tianlonghou eight-wheeled oil tanker
engine model
Engine manufacturer
Displacement (ml)
Power (kw)
ISD245 50
ISD285 50
Dongfeng Cummins Engine Co., Ltd.
Dongfeng Cummins Engine Co., Ltd.
6700
6700
180
210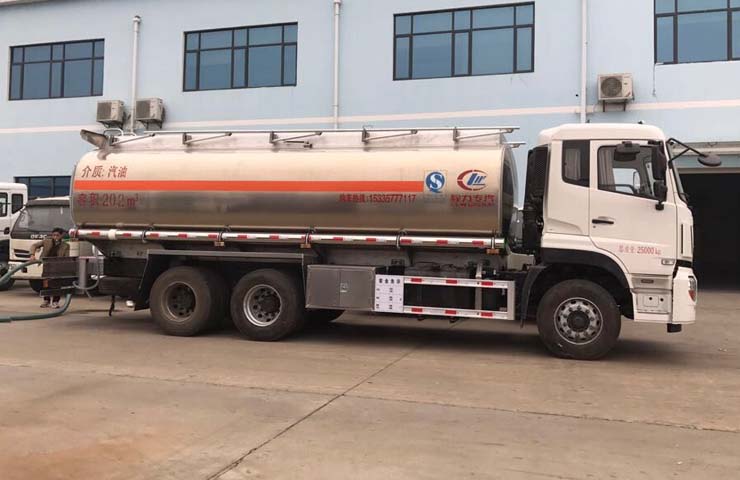 Dongfeng 6x4 oil truck, Tianlong 6x4 oil truck, Dongfeng oil truck, Dongfeng fuel truck. Dongfeng fuel tanker truck
Welcome to Chengli Special Automobile Co.,Ltd, any questions contact us via: sales@chengli.co