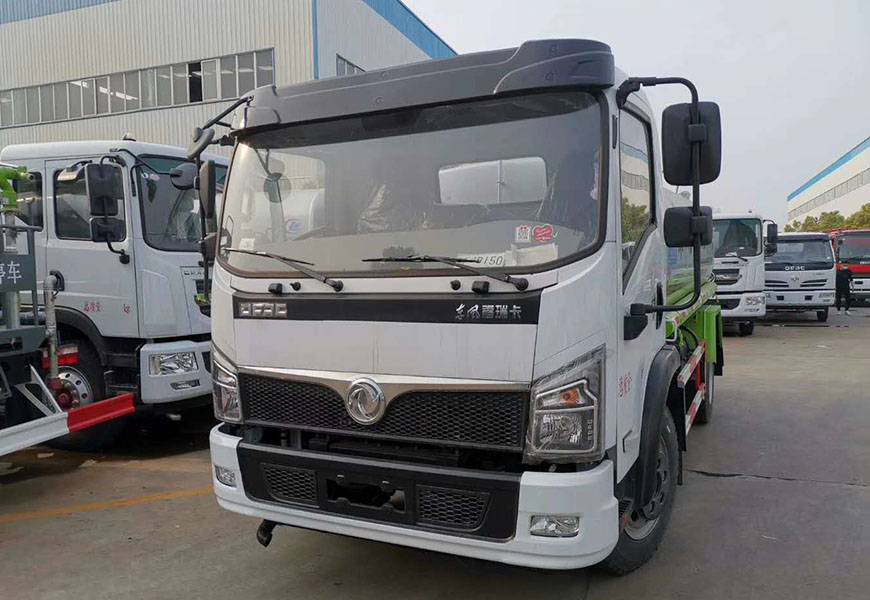 Vehicle technical parameters
| | | | |
| --- | --- | --- | --- |
| Tank volume | 10 cubic meters | Sprinkler width | 15 meters |
| Water cannon lift | 30 meters | Vertical suction | 7 meters |
| Total mass (Kg) | 11995kg | Rated load quality (Kg) | 6500kg |
| Curb weight (Kg) | 4720kg | Dimensions (mm) | 7230×2250×2700mm |
Chassis technical parameters
Chassis name
Dongfeng Furika
Chassis model
EQ1125SJ8CDC
Number of passengers (person)
3 people
Number of tires
6
Wheelbase (mm)
3800mm
Tire specifications
245 Tubeless Tire
Gearbox
6-speed transmission
Fuel type
Diesel oil
Emission Standards
Euro Six
engine model
Chaochai 163 horsepower
Model advantage
Vehicle advantages:

The truck tank has large volume, strong practicability, and high cost performance. It is suitable for highways, large-scale industrial and mining, urban roads, large-scale greening operations, etc.

Chassis configuration:

Adopt Dongfeng Furica, white front-turning cab, Chaochai 163 horsepower national six engine, 6-speed gearbox, wheelbase 3800mm, 5 tons rear axle, 245 tubeless tires, original abs, with direction boost, clutch booster , Air brake. The truck has an exemption announcement.

Upload configuration:

The tank is made of 4MM truck bon steel plate, and the partition in the tank has anti-wave effect to reduce the impact of tank liquid when the truck is driving. The vehicle is equipped with a special sprinkler pump (vertical maximum suction range of 9 meters), the sprinkler width is 14 meters, and the range is 28 meters. The multifunctional sprinkler is equipped with 2 front sprays (can wash away mud, dust and garbage on the road); 2 rear sprays (can evenly spray water on the road, a spray width of 14 meters), 2 side sprays (Sprinkler) (can evenly water the roadside green belt), with a rear working platform, and a green sprinkler cannon installed on the platform (the sprinkler can be rotated and can be continuously adjusted to direct, heavy rain, light rain, Drizzle, fog can be adjusted to wash tall trees). With 1 fire connector, 1 gravity valve, 1 filter device, humanized ladder and side guard rail, and install sprinkler music horn.

Optional configuration:
It can be equipped with advanced facilities such as medicine spray tray, medicine pump, anti-corrosion and rust prevention in the tank, multi-directional water inlet and outlet joints, solenoid valves, pneumatic valves, etc. to meet the needs of different users.
Scope of application:
Dongfeng Furuica 10 cbm sprinkler is a classic and practical multifunctional sprinkler, which can be used for road construction and road maintenance. It is also suitable for urban greening, watering, dust removal, cooling, washing, and it can also be used for water transportation in emergencies. Can be used as a fire truck. This truck has a wide range of uses, is economical and applicable, and is easy to operate.
After-sales service:
There are 1,300 after-sales service outlets nationwide, and the service is thoughtful, allowing you to worry-free after-sales!
Quality Assurance:

Big brand, high configuration and good service!
Welcome to Chengli Special Automobile Co.,Ltd, pls contact us via: sales@chenglico.com