Dongfeng Food Garbage Truck
Features:
The kitchen garbage truck is composed of a sealed garbage compartment, a hydraulic system and an operating system. The whole vehicle is a fully sealed type, and all the sewage during the compression, dumping, and compression process enters the sewage tank, which completely solves the problem of secondary pollution during the garbage transportation process.
Detailed vehicle parameters
Main technical data of Euro VI emission Dongfeng Duolika kitchen garbage truck
product name
CLW5040TCALS6 kitchen garbage truck
Dimensions (mm)
5995,5830,5505×2030×2850
Chinese Brand
Cheng Liwei
Cargo compartment size (mm)
××
Number of cabs
2
Axle load (Kg)
1600/2895
Total mass (kg)
4495
Approach/departure angle (°)
27.7/17, 27.7/15, 27.7/16
Rated mass (kg)
365
Front suspension/rear suspension (mm)
1055/1632,1055/1825,1055/1750
Curb weight (kg)
4000
Maximum speed (km/h)
110
Emission Standards
GB3847-2005, GB17691-2018 Euro Ⅵ
Vehicle description
With the optional chassis cab. The vehicle is equipped with side-mounted trash can lifting devices, closed trash cans and other devices, which are mainly used for the collection, transfer and unloading of kitchen garbage. Vehicle length/wheelbase/front suspension/rear suspension corresponding relationship (mm): 5995/3308/1632; 5830/2950/1825; 5505/2700/1750; protective material: Q235A carbon steel, connection method: left and right sides It is connected with the auxiliary beam by welding, the rear protective device is replaced by a special device, and the minimum height from the ground is 360mm. ABS model/manufacturer: ABS/ASR-12V-4S/4M/Xiangyang Dongfeng Longcheng Machinery Co., Ltd.
Chassis parameters of Euro VI emission Dongfeng Duolika kitchen garbage truck
Chassis model
EQ1045SJ3CDF
Fuel type
Diesel oil
Number of axes
2
Front track (mm)
1525,1519
Wheelbase (mm)
2700, 2950, 3308
Rear track (mm)
1498,1516,1586
Number of tires
6
Tire specifications
2700, 2950, 3308
Engine parameters of Euro VI emission Dongfeng Duolika kitchen garbage truck
engine model
Engine manufacturer
Displacement (ml)
Power (Kw)
D20TCIF1
YCY24140-60
CA4DB1-11E6
ZD30D16-6N
CY4BK461
Kunming Yunnei Power Co., Ltd. Guangxi Yuchai Machinery Co., Ltd. China FAW Group Co., Ltd. Dongfeng Light Engine Co., Ltd. Dongfeng Chaoyang Chaochai Power Co., Ltd.
1999
2360
2207
2953
3707
93
103
81
120
95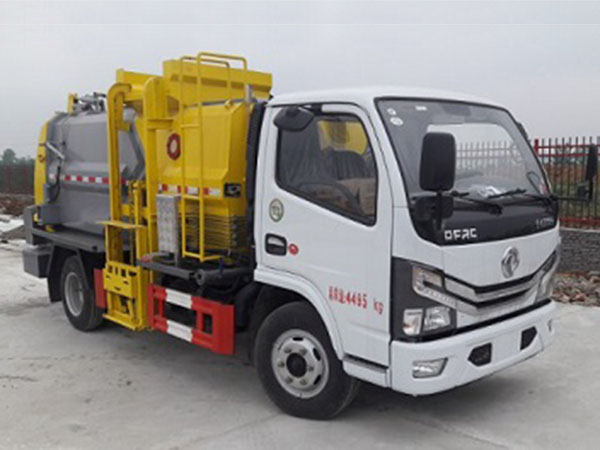 Dongfeng Food Garbage Truck, Dongfeng Food waste Garbage Truck, Dongfeng waste Garbage Truck, Dongfeng Food Garbage Truck factory, Dongfeng Food Garbage Truck supplier
Welcome to Chengli Special Automobile Co.,Ltd, pls contact us via: sales@chenglico.com