Vehicle technical parameters
| | | | |
| --- | --- | --- | --- |
| product name | Dongfeng Dolica Water Truck | Vehicle model | CLW5070GSSD6 |
| Tank volume | 5 cubic meters | Sprinkler width | 20 meters |
| Water cannon lift | 35 meters | Vertical suction | 8 meters |
| Total mass (Kg) | 7360 | Rated load quality (Kg) | 3855 |
| Curb weight (Kg) | 3375 | Dimensions (mm) | 5990×2000×2380 |
Chassis technical parameters
Chassis name
Dongfeng Dolica
Chassis model
EQ1075SJ3CDF
Number of passengers
2 people
Number of tires
6
Wheelbase (mm)
3308
Tire specifications
7.00R16
Gearbox
Wanliyang 5-speed transmission
Fuel type
Diesel oil
Emission Standards
Euro Six
engine model
Yunnei/Xichai/Chaochai
Model advantage
Advantages of the whole vehicle:
The appearance is large, the bearing capacity is strong, and the cost performance is high.
Chassis configuration:
It adopts the new Dongfeng D6 series cab, 3308mm wheelbase, equipped with 126-horsepower diesel engine in Yunnei, FAW Xichai 110-horsepower diesel engine, 130-horsepower diesel engine of Dongfeng Chaoyang, Wanliyang 5-speed gearbox, 3.5T rear axle, 7.00R16 steel wire tires, ABS, standard power windows, central locking, remote control keys, daytime running lights, automatic lock, shut-off brake, constant speed cruise, instant fuel consumption, full sense of technology, more comfortable driving.
Upload configuration:
The tank volume is 5 cubic meters meters, the tank body is made of national standard Q235 truck bon steel material, the thickness of the tank body is 4MM, the front and rear heads are 5MM thickened, the double-layer partition in the tank body has anti-wave function to reduce the impact of the liquid in the tank when the truck is driving; The whole vehicle and its external dimensions are manufactured in strict accordance with the Euro Motor Vehicle Announcement; it is equipped with high-power special sprinkler pumps, front flush, rear spray, side spray, and rear platform with green sprinklers. The sprinklers can be rotated in all directions and can be continuously adjusted. Straight, heavy rain, light rain, drizzle; equipped with fire interface, gravity valve, filter, with self-priming and self-draining function. The front head is equipped with a water level gauge, the rear platform main road has a 1-inch watering connection, and the rear ladder is equipped with a fire-fighting connector, a self-flow valve, a filter device, and the rest are standard.
Optional configuration:

1. Optional rear platform with

fog cannon

unit for spray dust reduction and pesticide spraying operations;

2. Optional front-mounted electronic sprinkler cannon for cab operation;

3. Optional pneumatic ball valve cab operation.

Scope of application:
It is suitable for washing all kinds of roads, trees, green belts, lawns, roads, factories and mining enterprises, and high-altitude buildings. It has the functions of water spraying, dust pressing, high and low spraying, pesticide spraying, and guardrail washing.
After-sales service:
There are 1,300 after-sales service outlets nationwide, and the service is thoughtful, allowing you to worry-free after-sales!
Quality Assurance:
Big brand, high configuration, good after-sales service!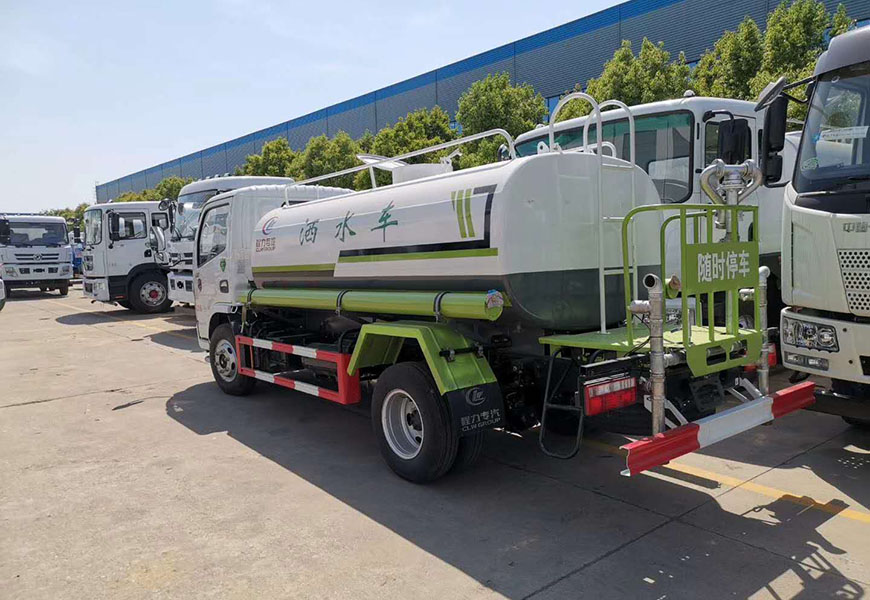 Welcome to Chengli Special Automobile Co.,Ltd, any questions contact us via: sales@chengli.co