Suizhou Daily News correspondent Mo Xuan reports: In recent days, in order to minimize the spread of the virus from growing and Wuhan city, Hubei will focus on the area around the hospital sterilization operations, markets, communities.Wuhan vehicle running in the streets of the city to participate in sterilization, there are 15 truck s from eight tons to clean and disinfect corporate earnings peak Suizhou Environmental Technology Group Co., Ltd. donated.
Since the epidemic prevention and control warfare broke out, profit-environment as an environmental protection equipment manufacturing enterprises to actively respond to the call, launched an emergency rush to the rescue Wuhan, Hubei action to combat the epidemic in the New Year's Eve.Business-related person in charge, after communication with relevant departments of Wuhan City was informed that the surrounding local hospital staff is the main gathering place, more people access, use of artificial sterilization operations cumbersome and there is a risk.To this end, profit-environment decided to play a business advantage, to Wuhan donated 15 vehicles to clean and disinfect, helping to fight this outbreak blocking action.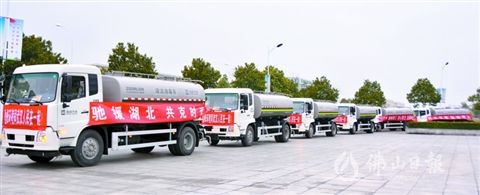 Profit-environment donate 15 8 tons disinfectant cleaner vehicles to Wuhan./ Photo provided by the respondents
In order to protect the vehicle can reach epidemic occurred as soon as possible, profit-environmental emergency deployment of equipment and supplies in the New Year's Day, and arrange for professional and technical engineers and management personnel back to the shop.Combined with the outbreak cleaning and disinfection requirements, technical personnel vehicles were converted, mainly imported professional anti-corrosion material on the internal tank disinfection of vehicles covered by the specialized anti-corrosion coating, the coating can effectively prevent corrosion and ensure that vehicles in use disinfectant process to achieve security leak.After three days of fighting, 15 clean and disinfect all vehicles complete refit in January 27 and ready to go.
Business-related person in charge, these vehicles are cleaned and disinfected emergency cleaning aimed primarily at urban major epidemic event designed for mobile-specific emergency equipment sterilization, disinfection products with multi-mode operation, intelligent automatic disinfection operation and high corrosion resistance and other characteristics, every truck daily disinfection area of 500,000 cbm meters up to 30 ~.In epidemic prevention and control during and after the epidemic prevention and control can play a very powerful disinfection cleaning and disinfection sterilization.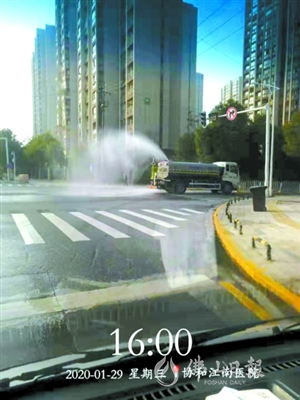 Profit-environmental cleaning and disinfection donated truck in Wuhan city streets to participate in sterilization operations.
January 29, these clean and disinfect truck official "job", ride in the streets of Wuhan, the huge tanks along the road to the rear of the air spray disinfectant mist, a wide range of disinfection.Wuhan Municipal Law Enforcement Committee of the relevant person in charge, these clean and disinfect every area of a truck in Wuhan, the district sanitation department has arranged for staff and drivers to sign, Municipal Law Enforcement Commission also based on the receipt, handling vehicle allocation procedures.
Sweep swept away, rush to the rescue Wuhan look clean and disinfect truck video.
Original title: "Suizhou made" disinfection Che Fu Wuhan posts
Profit-actively support environmental epidemic prevention and control, cleaning and disinfection donated 15 vehicles
Edit | He Xinhong
Welcome to Chengli Special Automobile Co.,Ltd, pls contact us via: sales@chenglico.com